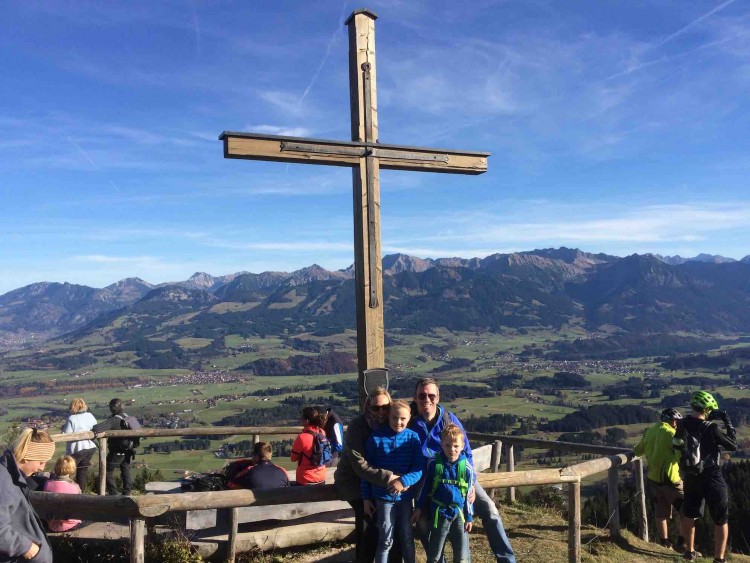 2020 June 11
Allgäu - die Hörnerdörfer
Enjoy the Hörnerdörfer - just a 2,5 hour drive away from Stuttgart
The Allgäu is a wonderful region in Bavaria and just 2 – 2,5 hours away from Stuttgart – great for hiking, sightseeing, biking, golfing, wintersports and relaxing in one of their great SPA hotels and great food!
There are many things to do with kids, too, like aquaparks, climbing parks, summer roller coasters, hiking trails esp. for children and much more. Every town has its own attractions.
Read more about the Allgäu in general.
Hörnerdörfer
Today we are featuring the Hörnerdörfer - a 2 hour drive from Stuttgart to one of the villages called Balderschwang, Ofterschwang, Obermaiselstein, Fischen and Bolsterlang.
HORNED VILLAGES
Horned Villages? Horn as in a horn of a beautiful Allgäu cow? Not really…more like proud mountain peaks after which the holiday region was named. The Rubihorn, the chain of horns with the Ofterschwanger and Bolsterlanger, the Sigiswanger and Rangiswanger Horn and the highest of them, the Riedbergerhorn. Their magnificent, partly rocky silhouettes mark the outline of this holiday region in the Allgäu.
SUMMER

Activities
Enjoy exploring nature by bike or e-bike, improve your golf game or find your inner centre with archery. You can experience action and rapid descents on the downhill scooter in Ofterschwang or the mountain cart in Bolsterlang. Even paragliding is an option.
Hiking
In the Horn villages there is an almost inexhaustible network of hiking trails for all levels of ability: easy trails for families as well as rocky peaks for the more demanding. But all the trails have one thing in common - they offer an incomparable view of the Allgäu Alps.
It's also comfortable, as the cable car (for free) takes over the altitude difference. The Allgäuer Hörnerbahnen, two mountain railways in Bolsterlang and Ofterschwang, take you comfortably up to the Bolsterlanger Horn and Ofterschwanger Horn.
The cross-border Nagelfluhkette Nature Park, in which the Hörner villages are located, has an impressive difference in altitude of almost 1,400 meters over the entire nature park area.
This results in its incomparable flair and breathtaking beauty. There are numerous traditional alpine mountain huts to invite you to rest and enjoy the typical local food.
Water fun / sports
There are offers for canyoning, rafting and water. And if you like aqua fun – there is a great family fun pool in Fischen.
WINTER
The Allgäu is a great area for alpine and cross country skiing.
TIP
Staying in one the many accommodations you will receive a guest card – the Allgäu-Walser-Card – which gives you access to numerous free or discounted services.
Here is the website of the Hörnerdörfer to explore (only in German).

June 2020 by Kira Neumann
This blog post is a personal recommendation and based on personal experience. It has been prepared with the greatest possible care and does not claim to be correct, complete or up-to-date."
If you like what we do - please share with your friends.
https://www.instagram.com/kiramiga/
https://www.facebook.com/relocationbykiramiga/
or sign up for our NEWSLETTER on our website.
---
---