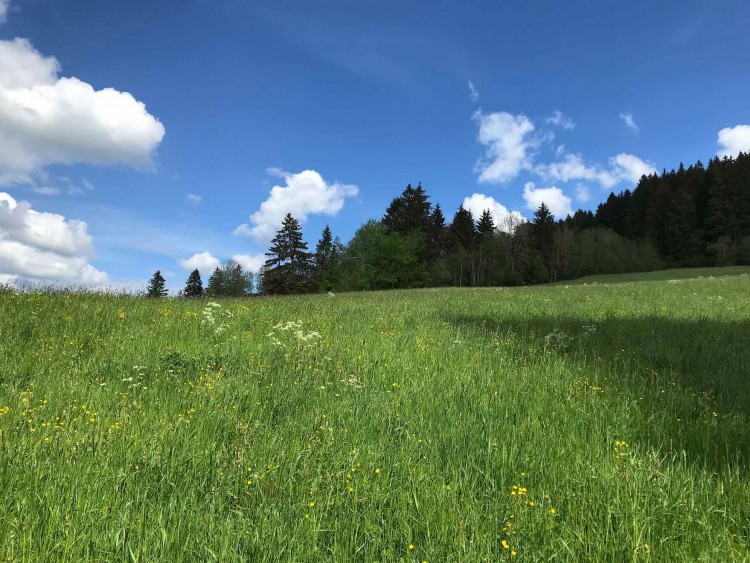 2020 May 15
Allgäu - Oberstaufen
In for a break - a weekend or longer? Oberstaufen has it all...
The Allgäu is a wonderful region in Bavaria and just 2 – 2,5 hours away from Stuttgart – great for hiking, sightseeing, biking, golfing, wintersports and relaxing in one of their great SPA hotels and great food!
There are many things to do with kids, too, like aquaparks, climbing parks, summer roller coasters, hiking trails esp. for children and much more. Every town has its own attractions.
Read more about the Allgäu in general: https://www.allgaeu.de/en
Oberstaufen
Today we are featuring OBERSTAUFEN – we have been there numerous times and it is a great area to enjoy and be active with or without children.
Last time we hiked to Austria without even realising that we crossed the border and quite nosy cows were blocking to path...
We really enjoyed the carefree package of Oberstaufen PLUS card – read more below. It really gives you lots of ideas what to do and a very good value for your money (or hotel accomodation).
Into GOLF? Some hotels have also green fees included in their rate or even a golf course directly attached to the hotel.
Main features taken information from their website - here you can find and book your accommodation in English (see end of the post).
Hiking On Three Levels
Sunny trails through flowering meadows, stop off for refreshments at authentic alpine huts, panoramic views across the mountains to the Swiss and Austrian Alps - hikes that guarantee that "feel-good" factor. Walks at all levels and requirements are possible in Oberstaufen: alpine mountain tours, walks through the alpine foothills and family friendly tracks along the valleys (also with a stroller possible).
Here the website (albeit in German) for the 3 cable cars running - but you can get an idea of the trails from their maps. www.imbergbahn.de, www.huendle.de, www.hochgrat.de
Hospitality has a long tradition here in Oberstaufen, that's probably the reason why you will find Bavaria's most first class well-being hotels here in Oberstaufen, offering a wide range of beauty and holistic treatments. Numerous, lovingly furnished hotels, guest houses, holiday apartments and traditional B&B's are here for the taking. Browse through our accommodation possibilities and see for yourself!
Allgäu Delicacies & Zest For Life
In Oberstaufen enjoyment and lifestyle are joined together: discover the real Allgäu cuisine in the many restaurants , or cafés and the alpine huts. Afterwards you can enjoy the sociable atmosphere of the various bistros, dance bars and nightclubs, without a curfew and you can experience the zest for life to your hearts content.
Oberstaufen PLUS
Over 300 accommodation hosts provide you with many benefits during your holiday in Oberstaufen, including free rides on the cable cars or free entry to the swimming arena, free use of the summer toboggan run and crazy golf. In winter the Oberstaufen PLUS Card is also valid as a free ski pass for one offour ski resorts per day. You can just go straight on through the turnstile, without having to wait in queues. But that isn't all: Oberstaufen PLUS includes free rides on the shuttle bus to the hiking area and to the ski lifts as well as free parking on various car parks.
The Magic Of Winter
In Oberstaufen the pistes aren't the only attraction in winter: carefully prepared cross-country ski tracks and winter hiking paths for miles and miles are waiting to be discovered on a snow shoeing tour or during a romantic horse-drawn sleigh ride. Indulge yourself in one of the rustic alpine huts to an Allgäu delicacy , such as "Käsespätzle" (a traditional dish with cheese and roasted onions and homemade egg pasta), or "Kaiserschmarr'n", (sweet cut-up pancake with raisins), and enjoy the Allgäu winter fairytale.
The feeling of happiness, effective slimming, and anti-ageing: no other diet or cure can boast all these assets. This naturopathic detox cure, developed by Johann Schroth, has been administered here in Oberstaufen for 65 years. The four basic elements of the Schroth Cure are the diet, the regulated fluid intake, the body wraps and rest and exercise. Through the naturopathic treatment the body detoxifies and purifies, enabling regeneration. It is ideal to invest in your health and the aim is to activate your body's own self-healing powers for a healthier future.
Website: https://www.oberstaufen.de/en/
May 2020 by Kira Neumann
This blog post is a personal recommendation and based on personal experience. It has been prepared with the greatest possible care and does not claim to be correct, complete or up-to-date."
If you like what we do - please share with your friends.
https://www.instagram.com/kiramiga/
https://www.facebook.com/relocationbykiramiga/
or sign up for our NEWSLETTER on our website.
---
---