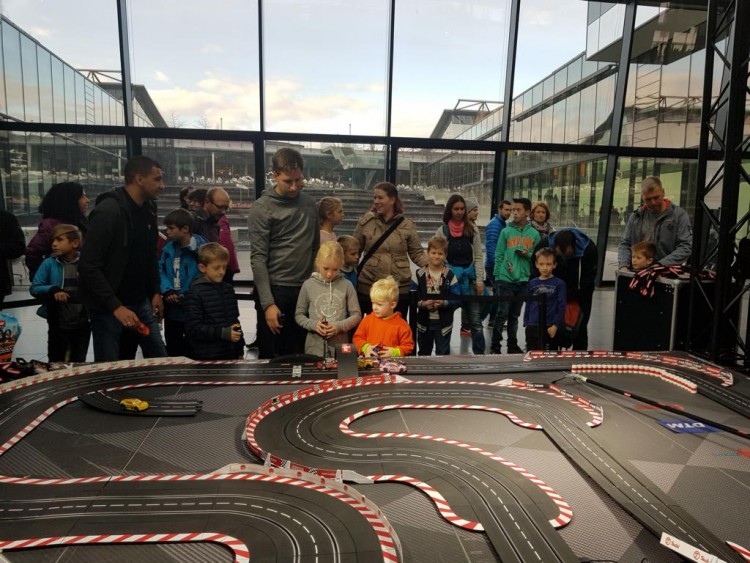 2019 October 25
AUTUMN FAIRS - MESSEHERBST IN STUTTGART
Looking for new ideas and information around family, games, leisure and food?
AUTUMN FAIRS are coming up – Stuttgarter Messeherbst – a must go for people living in Stuttgart area
From the 21st of November to the 24th the STUTTGARTER MESSEHERBST is on close to the Airport on the STUTTGARTER MESSE (Landesmesse Stuttgart).
There are nine different fairs at the same time. You pay only one entrance fee and can visit all of them. It is a great event for all: families with kids and adults only, friends and seniors. Everybody will find something, which is of interest for him/her. The opening ours are Thursday and Friday from 10am to 6 pm and Saturday and Sunday from 9am to 6 pm!
https://www.messe-stuttgart.de/pages/messeherbst/
Buy your tickets online or at the VVS ticket machines or at the Stuttgarter Messe itself. When you buy the ticket before (online or at the VVS ticket machine) it includes public transport on the day of your visit. (You can park there, but it is quite full!)
Here is a summary of the nine great fairs which can be explored:
KREATIV 21.11-24.11.2019
The fair for people who love being creative! You have lots of imagination, you love to make something on your own or want to get many new ideas? Then this is the place to be for you. This fair offers beautiful things around DIY and handmade pieces. In addition to current trends, the focus is on classic creative topics such as sewing, painting and the decoration of cakes. The special feature: numerous workshops are on offer, which invite you to get creative yourself. This is a fair for the whole family. There are also offers for children.
FAMILIE UND HEIM 21.11.-24.11.2019
The fair for shopping and adventure! Four days a year the largest shopping and adventure fair of Southern Germany is in Stuttgart. It offers competent advice and information, numerous product presentations by renowned exhibitors and many ideas and deals. With its variety of exhibition areas from health, to advice and decoration, to kitchen & household as well as building & modernization it is a fair for everyone. There is also an interesting program for the whole family.
SPIELEMESSE 21.11.-24.11.2019
The fair for board games and toys!
At that special and unique fair everybody will find something interesting and exciting: families with children every age (even the smallest ones), adults, young people, teachers or professionals of the game scene. The "Spielemesse" is the largest games fair in Southern Germany and it offers visitors a wide range of toys, board and puzzle games as well as educational games. Here you can also buy the newest toys and games and try them first. Christmas can come!
MODEL UND TECHNIK 21.11.-24.11.2019
The fair for technic fans! This is a fair for everybody (families, tekkies, model builders and all those who love innovations). From model railway technology to flight models, RC cars and trucks you can explore everything. Also new products and current product trends from the topics: computer, electronic, games and photography are presented. Lots of great shows and presentations can be seen. A highlight is the big indoor flying show!
MORGENMACHER FESTIVAL 21.11.-24.11.2019
The new fair in Stuttgart! The Morgenmacher Festival is a new fair in Stuttgart - the meeting place for all creators. It is a platform for creativity and ingenuity. Here you can discover exciting experiments, ingenious ideas and lots of opportunities in the fields of science, technology, crafts, art, environment and computer science. Learning, trying out and participating is the motto of the Morgenmacher Festival.
VEGGIE & FREE 22-24.11.2019
The fair for veggie fans and those who want to become one! This fair Veggie & free is dedicated to the topics of enjoyment and health. With active areas such as participatory cooking, smoothie workshops and lots of vegetarian and vegan recipe tips as well as a wide range of histamine-, gluten- and lactose-free foods in the exhibition area "free of".
EAT & STYLE 22.-24.11.2019
For three days numerous exhibitors and small manufacturers will present their exciting products. On the show stage there is an interesting program and there are 20 food trucks with delicious food waiting for tasters at the big food truck battle. Dining, shopping and talking to exciting producers from the surrounding area. A great experience to make!
MINERALIEN & FOSSILIEN& SCHMUCK 22.11-24.11.2019
The fair for mineral and fossil fans!
For more than 30 years, minerals, fossils and jewelry are presented here. When you collect these things but also when you just want to look at the beautiful exhibition this is a nice place to go. Perhaps you find something nice for Christmas?
ANIMAL 22.11.-24.11.2019
The fair for those who have or love animals!
Here you can discover a fascinating world around animals. You will find high professional booths, a large diversity of the existing animal species and a colorful assortment of accessories and care articles. This is a must to visit for animal lovers, animal owners and those who want to become one. Impressive demonstrations, informative expert lectures and exciting competitions can be enjoyed.
My family and I go there for over 15 years every year. It is a great event and we don't want to miss it. Our personal tip: start in the morning. In the aftgernoon it gets really crowded.
Have fun and perhaps see you at the STUTTGARTER MESSEHERBST! Talk to us if you see us – we love to meet you.
October 2019 Dr. Christine Krämer
This blog post is a personal recommendation and based on personal experience. It has been prepared with the greatest possible care and does not claim to be correct, complete or up-to-date." Picture credit: Kiramiga
If you like what we do:
https://www.instagram.com/kiramiga/
https://www.facebook.com/relocationbykiramiga/
or sign up for our newsletter:
https://www.kiramiga.com/en/newsletter/
---
---