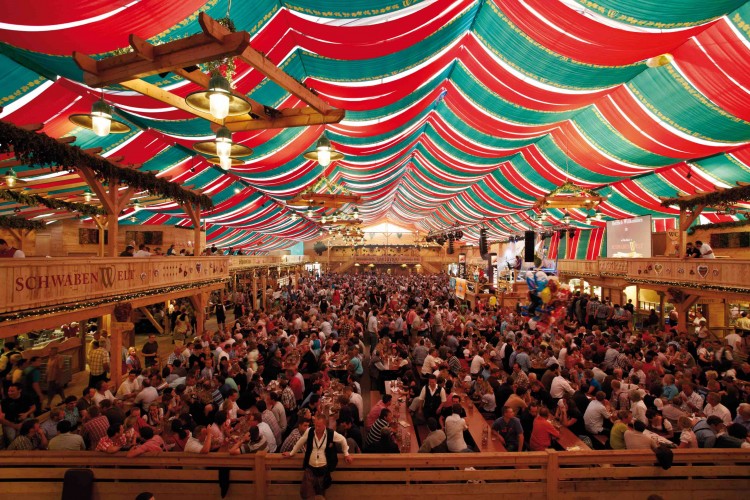 2019 September 26
Cannstatter Wasen - it's "Volksfest-Time" in Stuttgart
This is THE traditional event in Stuttgart -  don't miss it.
Maybe you have seen pictures of big tents with lots of people celebrating or the fun rides being built on the big free space next to the Wilhelma (Zoo), Stadium and along the B10?
This weekend the 174th Cannstatter Volksfest will open its doors.
From Friday (27th) until Sunday (13thOctober) one of the largest and most exciting folk festivals of Germany will open its doors.
A little bit of history:
Since 1817 this festival is celebrated: at first as an agricultural festival with horse races and prizes for outstanding achievements in livestock breeding and then through the years more and more attractions were added. Today it combines the tradition with modernity in an appealing and unique way.
This time there are around 320 carnies, landlords, breweries and marketers who expect the visitors during the 17 days.
Here is a little outline of what awaits you:
Rides:
For action join one of the funfair rides.Huge ferris wheels (two of them), several rollercoasters, chaioplanes and water coasters. And for the horrorloving amongst us (and the ones who want to become): There are several ghost trains this year. Perhaps a good training for Halloween :-)
Food:
Food - yes of course - lots of it! 7 large marquees, the historic wine tent "Cannstatter Oberamt ", the mountain lodge and about 60 more catering services invite you to have a yummy time. You can try typical Swabian specialties, but also international specialities. "Göckele" (grilled chicken), grilled corncobs, Lángos and the famous "Käsespätzle" and lot' s of other tasty things can be found.
Beer tents:
And for entertainment, dancing and party you have to visit one of the marquees. They start the day with traditional brass music and later in the evening there is party music. In the marquees you should reserve places, especially on the weekend and in the evening. (https://www.cannstatter-volksfest.de/en/tents/)
Highlights:
On the opening weekend you will have the traditional keg tapping from Fritz Kuhn, the mayor of Stuttgart. This will be on Friday (27th) at 3 a.m. at "Grandls Hofbräu".
On Sunday (29th) there is the large folk festival parade in Bad Cannstatt- great for the whole family. Beautifully decorated horse-drawn brewery wagons of the Stuttgart breweries, historical vehicles, colourful costumed groups and bandsparade from the Cannstatter "Kursaal" through the old town of Bad Cannstatt to the "Wasen". Did you ever see pigs go on the street through Stuttgart? Very funny!

02nd & 09th October: family days (concessions all through the day on many attractions, parking only costs half the normal price)

13rd October at 9:30 pm: great fireworks with the world champion Joachim
This special folk festival is worth to visit – alone, with friends and with children. Everyboday will find something to have a good time. Enjoy it!
Opening hours
Monday until Thursday 12-23 pm
Friday 12-24 pm
Saturday 11-24 pm
Sunday 11-23 pm
Special opening hours
Friday 28.09 15-24 pm
Tuesday 02.10 12-24 pm
Wednesday 03.10 11-23 pm
To learn more, there is a homepage in English:
https://www.cannstatter-volksfest.de/en/volksfest/
September 2019 Kira Neumann
This blog post is a personal recommendation and based on personal experience. It has been prepared with the greatest possible care and does not claim to be correct, complete or up-to-date." Picture credit: Stuttgarter Marketing GmbH.
If you like what we do:
https://www.instagram.com/kiramiga/
https://www.facebook.com/relocationbykiramiga/
or sign up for our newsletter on our website.
---
---