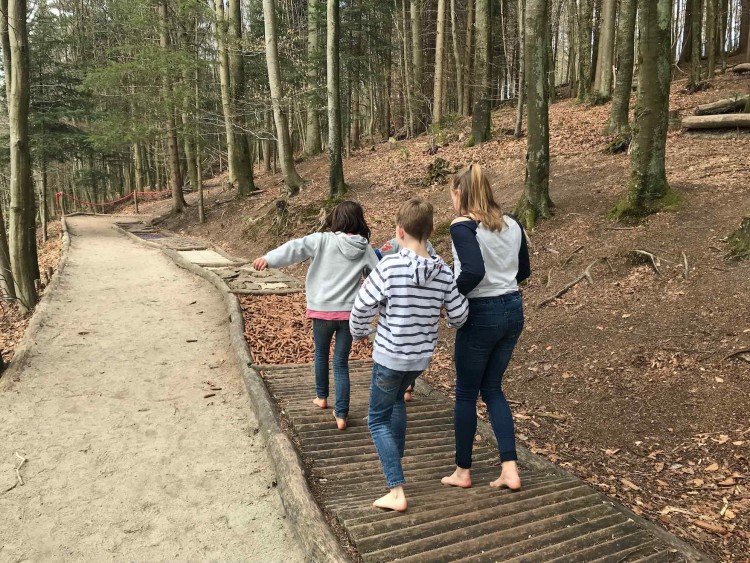 2019 July 29
Eins + Alles - a forest full of discoveries
...discover you senses or discover with your senses
So what does that mean?
Just go and try it out – several activities inside and outside invite you to discover your senses in the middle of the idyllic Welzheimer forest.
Everywhere you are encouraged to smell, to hear, to feel, to balance, to experiment and to be amazed about what your senses can do.
Be happy, play and let yourself be enchanted!
Main areas are small animal oasis (lamas, sheep, mules and goats), experience in the dark, a trail to discover lots of little wonders, an action park, balance parkour, a fire place and of course also a café and a coffee roastery.

Intersting for children and adults of all ages – we loved it.
Eins + Alles is a social project integrating people with disabilities.
Open in summer from 10 – 18 p.m., Adults 11 Euros, Children 9 Euros, Families 32 Euros.
Laufenmühle 8, Welzheim
https://www.eins-und-alles.de/willkommen/
July 2019 Kira Neumann
This blog post is a personal recommendation and based on personal experience. It has been prepared with the greatest possible care and does not claim to be correct, complete or up-to-date."
If you like what we do:
https://www.instagram.com/kiramiga/
https://www.facebook.com/relocationbykiramiga/
or sign up for our newsletter on our website.
---
---