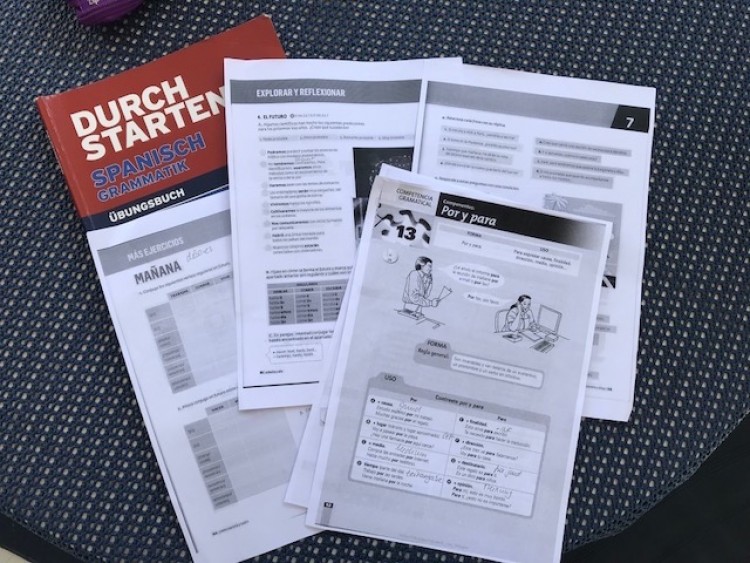 2018 September 03
Estoy estudiando español. I am learning Spanish.
Estoy estudiando español
. I am learning Spanish…
…and ever since our summers in Spain have changed. Of course I am not fluent and of course I still make a lot of mistakes speaking Spanish, but it makes such a difference – all of a sudden we know our neighbors – people we meet every year – and we actually got to know Spanish locals and their culture.
I admit, I like languages, but even if you are not that much into it, it makes life a lot easier. As per my experience local people become a lot more approachable and sometimes just a few words are the door opener for a conversation (locals are shy themselves as it turns out – everywhere – also your German neighbor J).
Being in a different country I always try to go to a gym to attend a class – mainly Yoga or Pilates (me being curious how they teach in other countries, as I am an instructor as well).
Although I did not speak the language at all I started going to classes in Japan and in Spain. And let me tell you – I did not have a clue what they were asking me to do and I went into the wrong direction more than once J
Learning the language opened up a whole new experience and I made some friends in class, too.
If you are lucky you might even get to attend bilingual classes like I did with Nikki Bates. Yoga with Nikki was perfect, as she teaches simultaneously in English and Spanish. This way I learnt a lot of Spanish – starting with the body parts J- and got used to listen to the language.
Japan was a whole different experience – after being back in Germany I trained to be a fitness instructor myself and remembered some of the really though abdominal exercises I used to do in this class in Japan – a class I never really figured out, as it was only ever written on the class schedule in Japanese – a class that was really new at that time. I attended, as I liked the instructor and the exercises. So training to be an instructor myself, I showed them to my teacher for verification and she just laughed and said – oh you have been doing Pilates.....
If you are interested in learning "practical everyday German" without worrying about studying grammar and getting in too deep – watch out – Language school Dr. Lukes and Kiramiga are working on a project to teach you what you need to know and make your life easier. For more information please go to the language module of what we offer.
---
---