2020 December 17
Glühwein - a Winter Tradition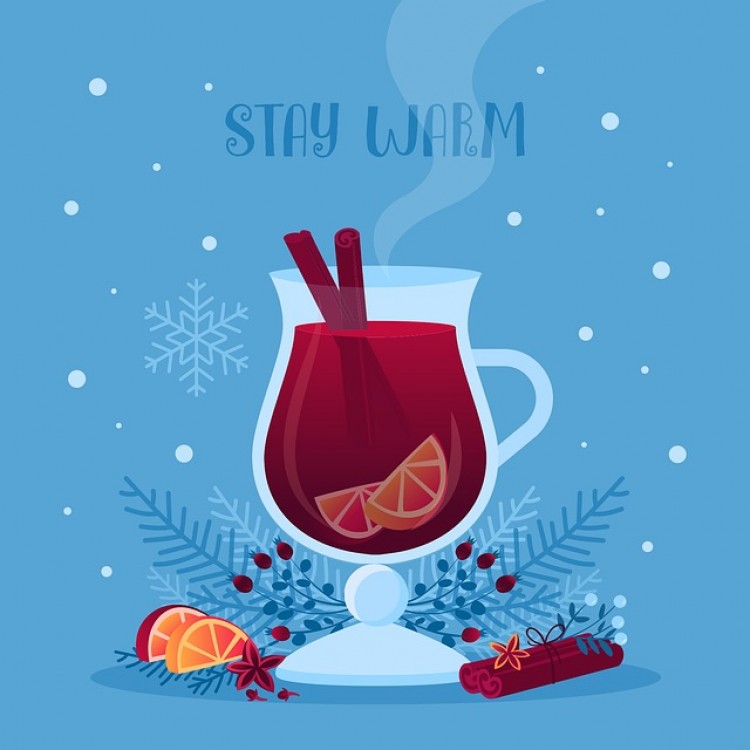 Some ideas how to make your own "Glühwein" or "Kinderpunsch".
As this year 2020 turns out a little different and we are missing out on having a Glühwein or Kinderpunsch (no alcohol) at a Christmas market, we have decided to have some Glühwein in our garden instead :-)
Sometimes we buy a Glühwein (the more upscale ones are called Winzer Glühwein from a winery) or Kinderpunsch in a supermarket or beverage market. But sometimes, we also take some time to do it ourself - so here are some ideas on how to make your own Glühwein.
Red Glühwein
Red wine (dry or medium dry)
2 Cinnamon sticks
10 Cloves
2 Star anise
3 Orange (organic)
60 - 70 g brown sugar
50 ml rum (optional)
if you want it the easy way, you can just add Glühweingewürz (see pictures).
Heat red wine with spices in a pot. Cut 2 oranges in half and squeeze the juice and add to the red wine. Finely slice remaining orange and set aside 3-4 slices for garnish. Add the other orange slices to the pot. Simmer all ingredients over low heat for about 10 minutes.
Add brown sugar and rum and simmer for another 2 minutes. Garnish as desired with orange slices and/or orange zest, and cinnamon sticks and serve hot.
Suitable Wines are
Dornfelder, Spätburgunder, Trollinger, Regent, Pinot Noir, Valpolicella, Bardolino, Lemberger, Merlot, Montepulciano, Zweigelt - not so suitable are wines aged in oak barrels (barrique).
White Glühwein
White wine (dry or medium dry)
2 Cinnamon sticks
10 Cloves
2 Star anise
2 Lemons or oranges (organic)
Acacia honey
Grape juice
Suitable Wines are
Silvaner, Müller-Thurgau, Riesling, Pinot Grigio, Chardonnay, Frascati
Kinderpunsch - non Alcoholic
1 liter water
3 bags fruit tea
500 ml clear apple juice
2 cinnamon sticks
6 - 7 cloves
50 g brown sugar
1 - 2 pck. Vanilla sugar
1 lemon
1Orange (organic)
Bring water to a boil, add tea bags and steep for 5-8 minutes. Remove tea bag. Add apple juice, spices, sugar and vanilla sugar.
Squeeze lemon. Wash orange hot, pat dry and cut into thin slices. Set aside a few slices for garnish. Add lemon juice and orange slices.
Simmer all ingredients over low heat (not boiling) for about 10 minutes. Serve hot and garnish with the remaining orange slices and/or cinnamon sticks as desired.
Besides the classic ones, other spices are also popular for mulled wine
Vanilla beans, ginger, nutmeg, coriander seed, anise, red pepper berries, long pepper, allspice, juniper berries, bay leaves, fennel seeds
For freshness and acidity provide fruits such as oranges, lemons, blood oranges. You can use the whole fruit or only the fresh or dried peels. If you are particularly concerned with the aroma of the wine, however, keep in mind when adding whole citrus fruits that they can be very dominant. Berries such as cranberries, elderberries or cranberries, apple and pear pieces or pomegranate seeds and rose hips also taste great in mulled wine.
For sweetening, cane sugar, honey, agave syrup and (orange) marmalade are suitable. Port wine or juice are also good sweeteners, while port wine raises the alcohol content and juice stretches the taste of the wine.
Besides Rum there are other spirits you could use
The most famous "shot" in mulled wine is brown rum, but other spirits also fit, for example:
Brandy (e.g. Cognac, Armagnac), Liqueurs (e.g. Grand Marnier, Cointreau, Amaretto), Calvados, Italian grappa, Korn or Vodka
TOP TIPS for your perfect Glühwein
Alcohol evaporates at a temperature of 78 degrees, so heat the mulled wine slowly. Do not let it boil to avoid heavy alcohol losses and to preserve the flavors of the spices.
Let the mulled wine steep for about an hour after heating to allow the spices to develop better. Or better yet, put the mulled wine on the day before and let it steep overnight for a more intense taste.
Note that you do not use containers or ladles made of aluminum, copper, tin or brass. This is because as soon as these materials come into contact with the mulled wine, they release substances into the drink that are harmful in larger quantities. It is best to use a stainless steel vessel.
Always keep the mulled wine warm with the lid closed to prevent too much alcohol from escaping, and pour in some fresh wine as needed.
By the way, traditionally mulled wine is served in a mug or cup - not in a glass.
December 2020 Kira Neumann
This blog post is a personal recommendation and based on personal experience. It has been prepared with the greatest possible care and does not claim to be correct, complete or up-to-date."
Picture credits: Pixaby
If you like what we do, please recommend us and share with your friends
https://www.instagram.com/kiramiga/
https://www.facebook.com/relocationbykiramiga/
or sign up for our newsletter:
https://www.kiramiga.com/en/newsletter/
---
---