2019 October 21
Influenza Vaccination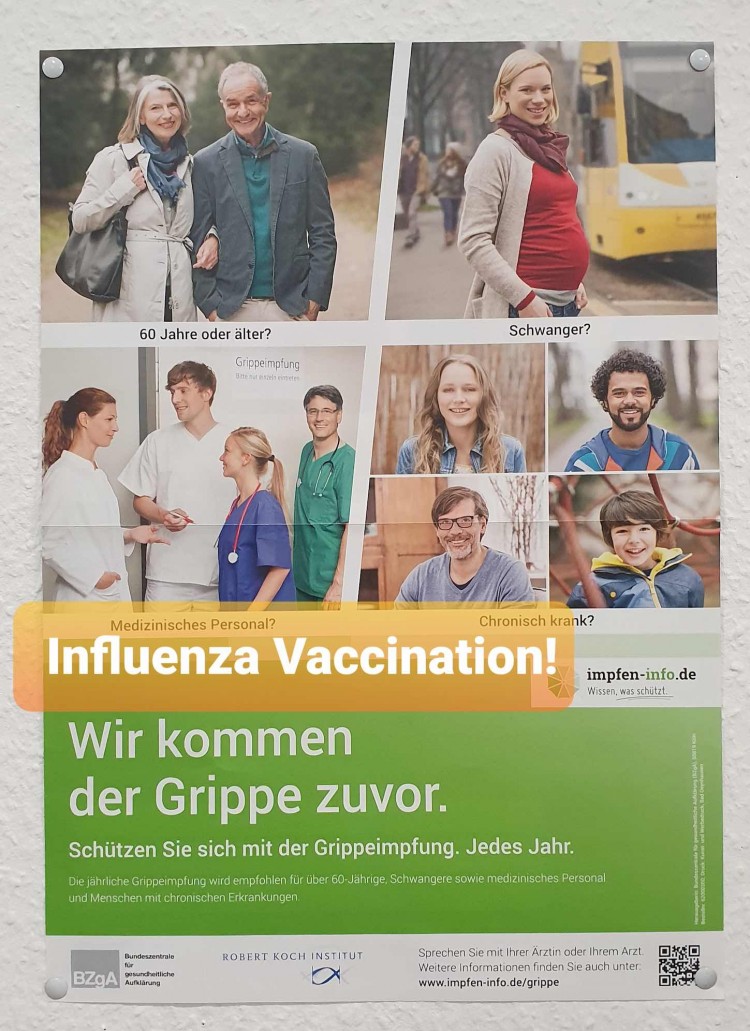 Just an information - you can have vaccinations in Stuttgart if you want.
*****As vaccinations are a very sensitive and private topic, this blog post is just giving neutral information. ****
In Germany it is quite common to get a yearly influenza vaccination, but especially for the following groups it is recommended: people aged over 60 years, people of any age suffering from chronic diseases, pregnant women and medical staff.
Why?
Flu is not just a simple viral infection (or "common cold") but can develop to a serious disease. It starts normally suddenly with high fever, dry cough, joint and muscle pain. But there can be severe complications: pneumonia and life-threatening processes.
The vaccination is done before the beginning of the winter influenza season (October or November). The vaccination needs to be repeated every year. Normally it is covered by the insurance.
For more information please make an appointment at your doctor.
Also you can read more here:
https://www.bzga.de/home/key-topics/vaccination-and-personal-protection-against-infections/
October 2019 Dr. Christine Krämer
This blog post is a neutral information and does not substitute a doctor's visit. It has been prepared with the greatest possible care and does not claim to be correct, complete or up-to-date." Picture credit: Kiramiga
If you like what we do:
https://www.instagram.com/kiramiga/
https://www.facebook.com/relocationbykiramiga/
or sign up for our newsletter:
https://www.kiramiga.com/en/newsletter/
---
---