2018 October 30
"Laternenumzug" – Celebration St. Martin's Day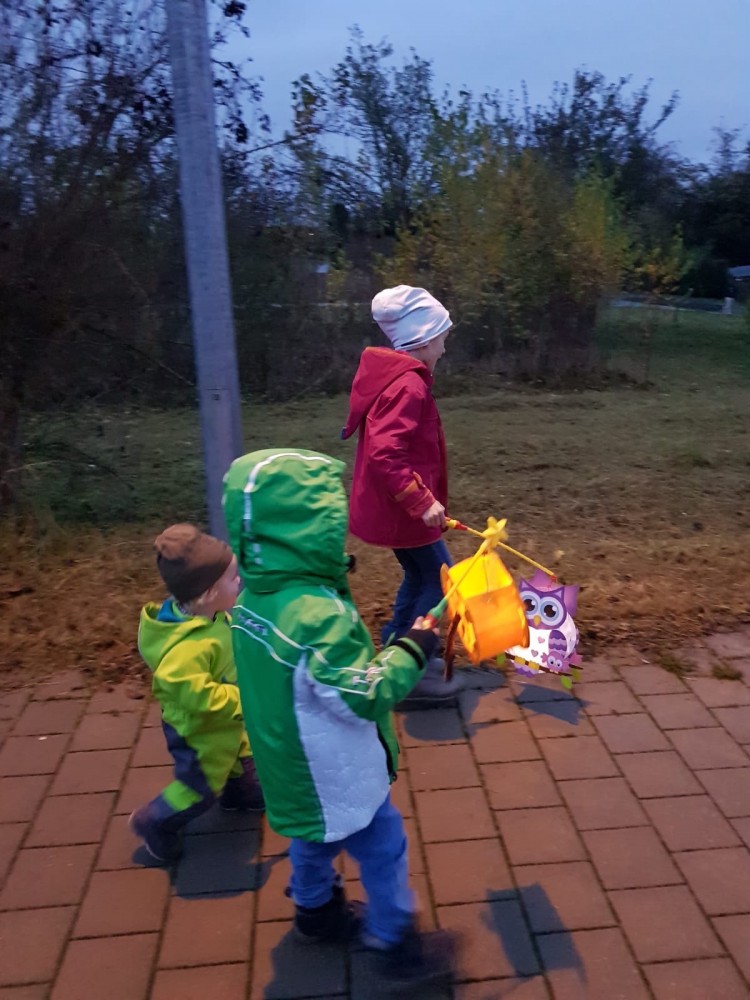 Soon it is November and some of you will have noticed lanterns and sticks with lights on the end or seen some posts about a "Laternenumzug". This means St. Martin's Day is coming and in this post I want to explain why Germans celebrate and how it is celebrated.
St Martin's Day
St. Martin's Day (Martinstag) on the 11th November each year is a Catholic holiday and it celebrates modesty and altruism. It is named after a Roman soldier, later known as Martin of Tours. The legend states that he saved a homeless person from freezing to death by giving him half of his cloak during a snowstorm. It is very popular amongst children and often celebrated in daycares and schools with a small lantern parade. The children are walking with their lanterns and singing songs along the way.

Also churches are celebrating this day with a lantern walk and a small church service suitable for children to honor the occasion. In the church close to my house they organzise a shadow play for the children every year.
Please check your church schedules, lamp post, local magazines or posts in small stores for more information about dates and times (similar to my post on "Kindersachenbazar – used goods markets").
How to make or where to get a lantern:
If you are creative you can make a lantern by yourself with tuturial from the net (search for "Laternen basteln"). You get can all the essentials at craft stores like Idee.
Alternatively you can buy a lantern at Müller drugstore, DM, Idee Creativmarkt, Kaufhof but also little office supply stores and big chains like Kaufland/Real.
As for the light – if you are brave you can put a candle in your lantern (which all of us did growing up in Germany in my generation J- and yes the one or other lantern caught fire, but the parents were watching us closely...). Alternatively you can buy tea electric lights to be on the safe side or a battery operated stick that has a hanging light at the end which sits inside the lantern (at drugstores DM, Müller, Rossmann or a Baumarkt like Obi, Bauhaus or Kaufland/Real).

There are songs that are traditionally sung on St. Martin's Day and this is an extract of the most famous one with the mostly sung verses:
Ich geh mit meiner Laterne
Und meine Laterne mit mir.
Dort oben leuchten die Sterne
Und unten leuchten wir.
Der Hahn, der kräht,
Die Katz miaut,
Rabimmel, rabammel, rabum.
Rabimmel, rabammel, rabum
I walk with my lantern,
And my lantern with me.
There above, the stars are shining,
And we shine here below.
The rooster, it crows,
The cat meows.
Rabimmel, rabammel, rabum
Rabimmel, rabammel, rabum


Ich geh mit meiner Laterne
Und meine Laterne mit mir.
Dort oben leuchten die Sterne
Und unten leuchten wir.
Laternenlicht,
Verlösch mir nicht!
Rabimmel, rabammel, rabum.
Rabimmel, rabammel, rabum


I walk with my lantern,
And my lantern with me.
There above, the stars are shining,
And we shine here below.
Lantern light,
Don't die out.
Rabimmel, rabammel, rabum
Rabimmel, rabammel, rabum

Ich geh mit meiner Laterne
Und meine Laterne mit mir.
Dort oben leuchten die Sterne
Und unten leuchten wir.
Mein Licht ist aus,
Ich geh nach Haus.
Rabimmel, rabammel, rabum
Rabimmel, rabammel, rabum


I walk with my lantern,
And my lantern with me.
There above, the stars are shining,
And we shine here below.
My light is off,
I go home
Rabimmel, rabammel, rabum
Rabimmel, rabammel, rabum
---
---