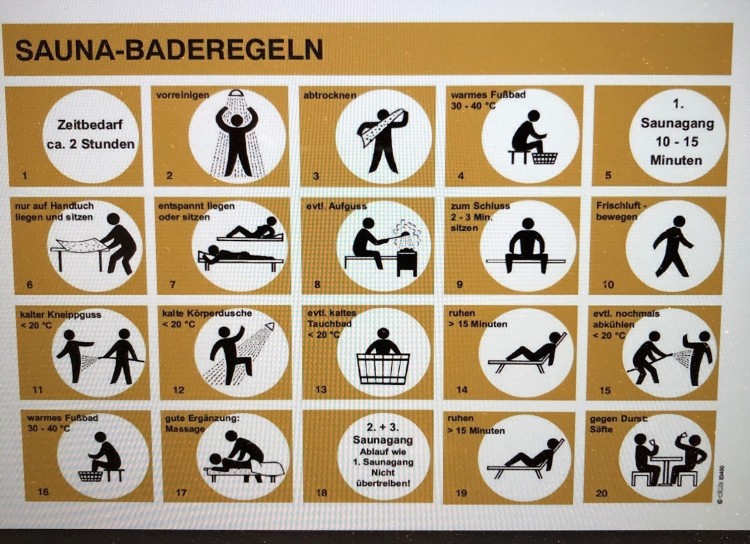 2019 November 20
Wellness & Sauna in Stuttgart - Part 4
Sauna Rules and what to bring to maximise your relaxation.
Finally - Sauna rules or what to bring to make your day.
You want to spend an evening or some hours in one of Stuttgart's saunas? In the last articles we wrote about the different places you could go. In this blog post, we want to explain what to expect and the rules when visiting a sauna in Germany – the rules in short are at the end of the text J
How to create a perfect sauna day:
What you need to bring to a public or private sauna (this obviously does not apply to a Wellness Hotel J)
bathrobe, towels (more than one), flip flops, a drink, soap (to be on the safe side), your own toiletries and something to read /music & earphones (optional) for your relaxation period.
Changing rooms & preparation:
Please leave your valuables, your mobile and clothes in the lockers there (sometimes you need 1 € to look it). Do not take jewelry and watches to a hot sauna. (Metal objects heat up heavily in the sauna, which can become unpleasant on the skin.)

You can mostly take your sauna bag (with towels, a book, cosmetics and drinks and a snack) to the sauna, there are special storage compartments.

For the glasses there is usually a special eyeglass rack in front of each sauna. You can wear contact lenses in the sauna without problem. Just make sure to wink regularly to avoid drying out the eyes.
Take a short shower and dry well after the shower (otherwise the water cools down the skin and the sweating is delayed). Now you can go to a sauna room. Whether you go to the sauna naked or enter it with a wrapped towel around you is up to you.
Before entering the sauna, make sure there is no infusion running. During an infusion you need to wait until this special sauna course is finished. You can usually see this through a clock attached to the door or a green/red illuminated lamp).
Entering the sauna, place your towel on the sauna bench. Make sure that it is positioned in such a way that no sweat can drip onto the wood surface. If you don't like to be naked, you can wrap another towel around your body.
How long to stay? . In each sauna there are hourglasses, which usually show a period of 15 minutes. However, you can choose how long you want to stay. Simply focus on your personal well-being. Leave the sauna if you feel that you have had enough.
After the sauna course it is recommend to cool down slowly. You can go to the fresh air or have a shower. Do not cool down too fast, as this is not good for your circulation.
Now it is recommended have a rest before you start the next sauna session. How long this rest period lasts, you decide for yourself according to your needs. 15 to 30 minutes are optimal. During this time you can make yourself comfortable on of the resting couches, take a foot bath or use plunge pools. How often you visit the sauna depends simply on your personal well-being.
During your stay don't forget to drink! You should drink at least 1-2l after going to the sauna- preferably mineral water, dilated juices or tea, but of course any other soft drink is also suitable for rebalancing the body's fluid balance.
Just look after your well-being, follow some basic rules and your sauna adventure will be great. We hope you have a good time!
Here in short the basic rules for going to the sauna in Germany:
Nudity!

It is common to go naked to the sauna here in Germany. When you leave the sauna it is common to dress yourself with a towel or a bathrobe. (In case of an increased feeling of shame, a bath towel wrapped around the body is allowed in the sauna) Swimwear and street clothes is not allowed.

No sweat on the wood!

The sauna should always be entered dry. Your bath towel must be so large that one's own sweat does not drip onto the benches.

Respect for others!

Try to keep some distance to your neighbor. Foreign towels should not be stepped on when "climbing up" to an upper level.

No noise!

Please avoid changing places unnecessarily or entering/leaving constantly. A short greeting when entering the sauna is OK, long conversations not.

Hygiene!

Before entering the sauna, a shower is mandatory, as well as before cooling off in the plunge pool.

Privacy

! It should be natural not to stare at other people. It is also out of place to exchange tenderness with your partner in the sauna. Mobile phones are not allowed.

Keep distance and make room!

If it gets full in the sauna, consideration is required. Make room for newly arrived guests if possible.

Behavior in the rest area.

At least the towel and bath shoes are mandatory for the relaxation room. Loud conversations or expansive picnics don't fit in here.
************************************************************************************************
This is it! Feedback welcome! Thanks for following our series on Wellness & Sauna in Stuttgart.
So if you are interested follow us on Facebook https://www.facebook.com/relocationbykiramiga, sign up for our Newsletter or check out our blog: https://www.kiramiga.com/en/blog/.
November 2019 Dr. Christine Krämer
This blog post is a personal recommendation and based on personal experience. It has been prepared with the greatest possible care and does not claim to be correct, complete or up-to-date." Picture credit: Pixaby
---
---