2018 December 07
Where to buy a Christmas tree in Stuttgart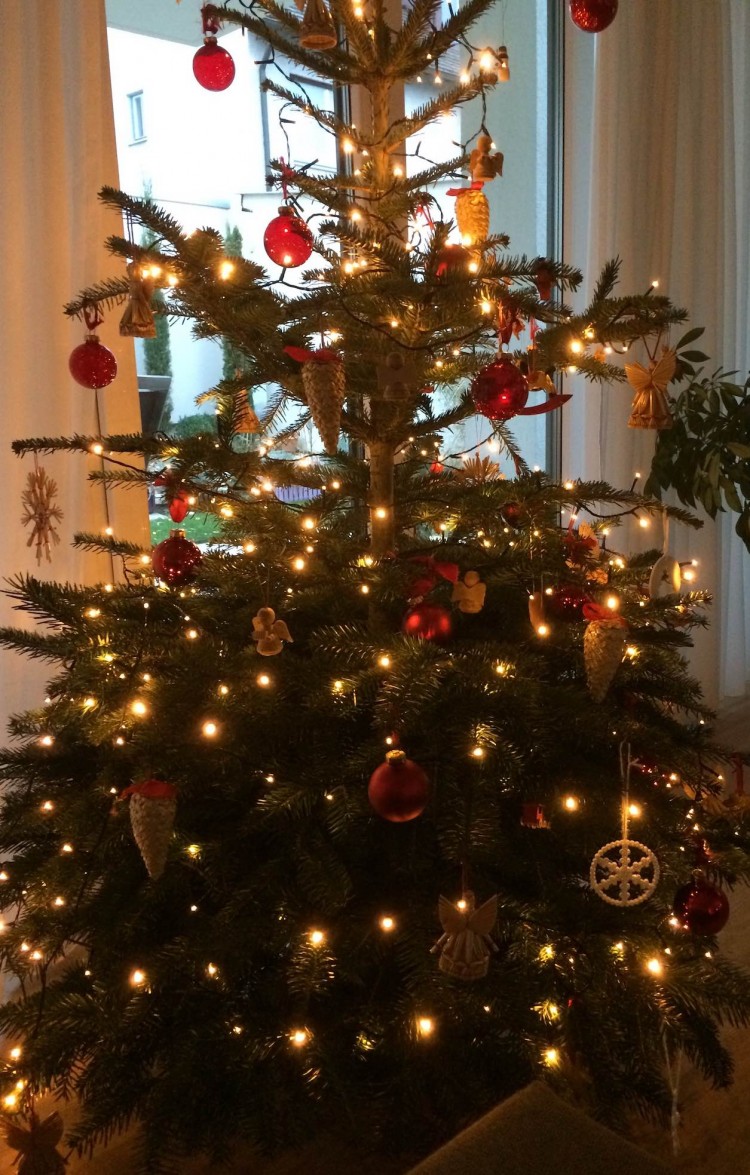 or do you want to cut it yourself?
Where to buy
Question is not only where to buy a tree, but for some also the question: where does it come from?

Easiest is to go to a DIY or garden center a so called "Baumarkt", such as Obi, Hornbach, Toom, Bauhaus and alike.


In these centres you will also find a tree-stand.

Watch out for the big signs along the road, which usually say "Weihnachtsbaumverkauf" or "Christbaumverkauf" and the starting date. I have attached some photos.

Also local fire stations (Feuerwehr) do sell Christmas trees for a good cause and donate the money to a local charity – also watch our for posters/signs.
Cut it yourself - a great experience
Alternatively and to know where your tree comes from, you can cut the tree yourself or have it cut for you.
Here are some places around Stuttgart where to buy trees and cut them, too . All are locally produced trees on special plantations.
Webpages are only in German – but quite ok to figure it out.
Weihnachtsbaum Wieland
Locally produced Christmas trees. Please see their stalls in the link. Also usually on the 3rdand 4thAdvent (Aktionstage) you can go there and cut your own tree near Möglingen. In 2020 this is on the week-ends of the 2ndand 3rd & 4th Advent.
Link to Weihnachtsbaum Wieland
Christbaum Stuber
Locally produced Christmas trees. You can buy them at one of their many stalls in differnt places (see link) or cut one yourself in Sillenbuch, Möhringen or Korntal Münchingen. You need to contact them directly for more information on the latter or talk to them at one of their stalls.
If you bring your tree stand, they will help you to adjust the tree perfectly.
Link to Christbaum Stuber
Uhlandshof in Hattenhofen close to Göppingen
Locally produced Christmas trees – you can buy them at the farm or cut them yourself (bring you own saw!)
Link to Uhlandshof
Mittelmühle in Adelberg
If you do not mind a little drive and want to combine buying your Christmas tree with a little trip/event you could buy a locally and sustainable produced tree at Adelberg inbetween Göppingen und Schondorf. They offer a Christmas exhibition, Glühwein and Christmas feeling and of course you can go for a walk/hike there, too.
Link tro Mittelsmühle
Hof Schuir
Locally produced Christmas trees in Bondorf every day (also Sundays!) from 9 am to 7 pm.
At the weekends you can also cut the tree yourself! This year 8/9thand 15/16thof December from 10 am to 4 pm.
Link to Hof Schur

If you have any other suggestions, please let us know
hello@kiramiga.com
how do I get rid of the tree after Christmas?
All around Stuttgart there are collection areas for Christmas trees. Usually you can see them when you drive around in your area.
Or you go to the website of Stuttgart Waste Disposal and type Christbaum in the search, then click on Entsorgung (disposal) and you can find a list of the disposal places.


REnt a Christmas tRee

There are different options - usually the trees are delivered and picked up again. There are different offers from different suppliers.
You can either choose to have the same tree every year, your tree will be planted somewhere after Christmas or you can plant it in your garden.
Check out garden centres and nurseries nearby where you live.
Here is an internet option:
Alternatives to a real tree
We were recommended that you can buy really good fake, plastic trees here (but we did not try it out ourselves - no advertising) and of course on Amazon and different other locations & Internetshops.


November 2020 Update Kira Neumann
This blog post is a personal recommendation and based on personal experience. It has been prepared with the greatest possible care and does not claim to be correct, complete or up-to-date." Picture credit: Kiramiga
If you like what we do - please share with your friends.
https://www.instagram.com/kiramiga/
https://www.facebook.com/relocationbykiramiga/
or sign up for our NEWSLETTER on our website.
---
---