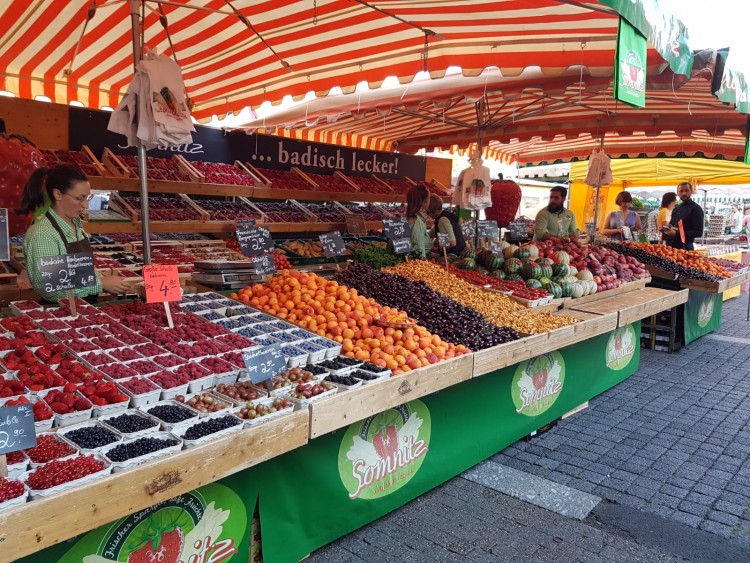 2019 October 15
Farmers Markets in Stuttgart (Wochenmarkt)
Have fun interacting with locals and help the environment by placing your shopping directly into your basket - without any extra packaging.
Overview
Stuttgart has 29 farmers markets.
Market days are usually Tuesday up to Saturday but never on Monday/Sunday.
Nearly each area of Stuttgart has its own little farmers market. If you go there regularly it is a good way to meet people, interact with the sellers and the locals and practice your German.
What to find on a farmers market:

Amongst fruit, vegetables and flowers you can also find cheese, meat, fish, eggs, bread, international specialities and local honey.
History of the farmers market:

Lots of centuries Stuttgart was relying on Viticulture, farming, craft and trade of wine, salt and wood.
As of 1304 weekly farmers markets were introduced and their range of produce grew with industrialisation.
Huge Farmers Market in Downtown Stuttgart
The big farmers market downtown around the Rathausplatz and Schillerplatz is held 3 times a week Tuesday/Thursday from 7 a.m. to 1 p.m. and Saturday from 7 a.m. to 1:30 p.m.
At the time of the Weindorf and Christmas market, the farmers market will move to the Königsstrasse.
The general rule is: if there is a national holiday on market day, the market will be held the day before.
Market hall Stuttgart
And if you are visiting the downtown market - do not forget to have a look into the Markthalle (market hall):
Markthalle Stuttgart

more information and direct links
Click here for more general information about Wochenmärkte in German
Click here for a list of farmers markets in Stuttgart area

October 2019 Kira Neumann
This blog post is a personal recommendation and based on personal experience. It has been prepared with the greatest possible care and does not claim to be correct, complete or up-to-date." Picture credit: Kiramiga
If you like what we do - please share with your friends.
https://www.instagram.com/kiramiga/
https://www.facebook.com/relocationbykiramiga/
or sign up for our NEWSLETTER on our website.
---
---